The R/V Kilo Moana is a 186' Small Waterplane Area Twin Hull (SWATH) vessel owned by the U.S. Navy and operated by the University of Hawaiʻi Marine Center. Because of the unique SWATH design, the Kilo Moana is a very stable and comfortable platform from which to conduct oceanographic research. The ship was designed as a multi-purpose oceanographic research vessel with extensive equipment for geophysical (2 multibeam echosounders, subbottom profiler, gravimeter and magnetometer), physical oceanographic (Doppler current profilers, CTDs, pCO2); meteorological and radioisotope research. Over 2500 sq. ft. of space is provided in 8 different laboratories and over 4000 sq. ft. of exterior working space is available on the aft main deck and the forward 01 deck. The Kilo Moana was built in 2001 and commissioned in 2002. The vessel operates out of Honolulu, Hawaiʻi, and has worked throughout the Pacific. The cruising speed is 12 kt., with a minimum speed of less than 1 kt. and station keeping supported by dynamic positioning.
Attention: Please review the UNOLS Safety Orientation video prior to embarking on your next expedition. Thank you!
For more information about the Kilo Moana, please refer to the following manual.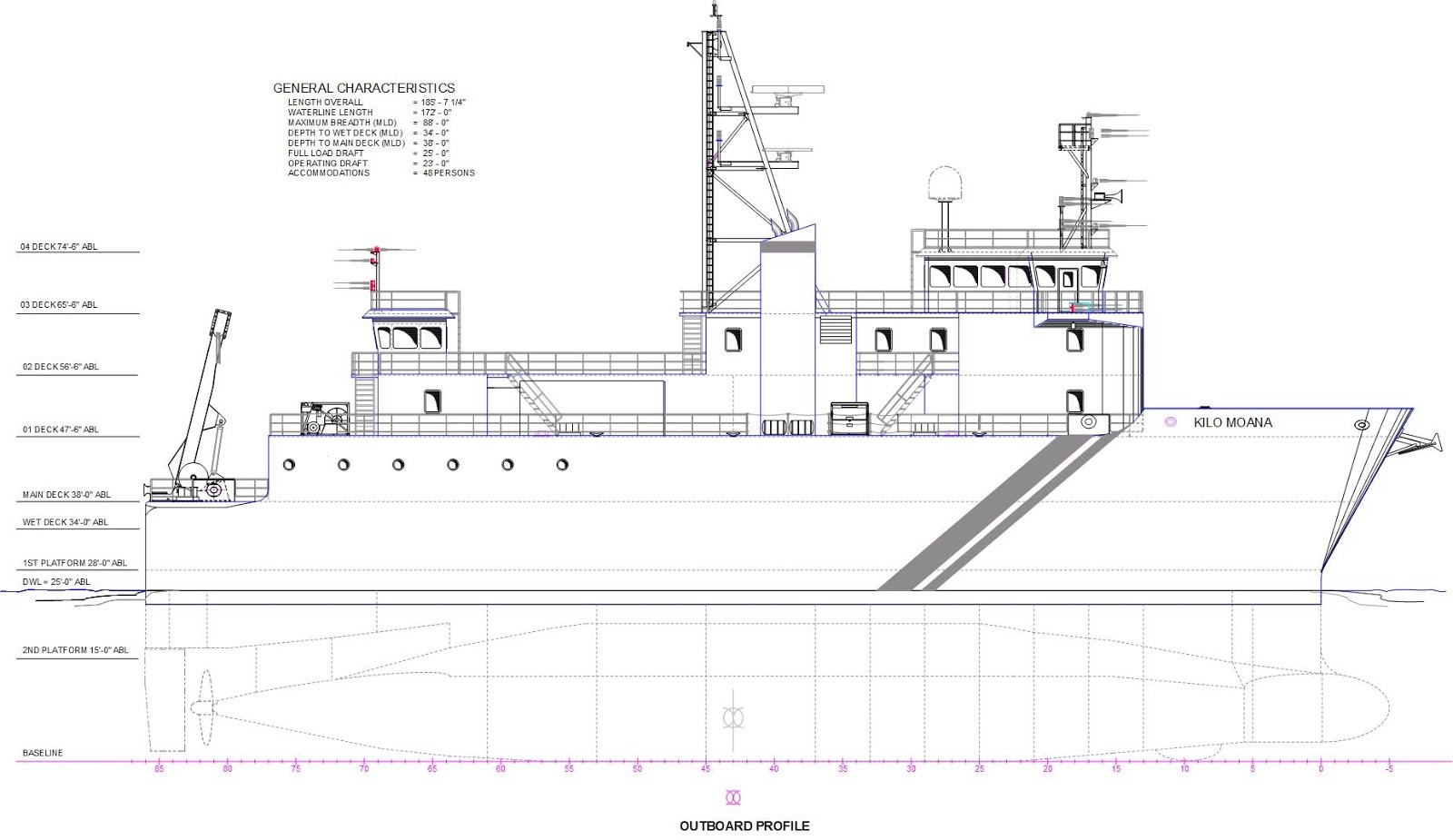 Quick Links:| Deck 03 | Deck 02 | Deck 01 | Main Deck| Platforms
DECK 3
Bridge and Chart Room
The 03 deck houses the bridge and chartroom. Scientists are welcome on the bridge when operations permit during daylight hours, but there's limited space and not everyone can come at once. Traffic or ongoing operations my preclude your presence. No persons will be allowed on the bridge while the vessel is arriving or departing port or piers or maneuvering in close quarters.
DECK 2
The 02 deck aft is a good location to watch scientific operations that are taking place on the aft main deck. Inside is the conference room where the initial science party briefing takes place and can be used for science meetings while underway. Near the conference room are berthing spaces for ship's officers and crew. Along the forward side of the deck are staterooms for the chief scientist, chief engineer, chief mate and the master.
Conference Room

Conference room is for science team work and meetings. There are also basic medical supplies (bandages, antacids, seasickness pills, simple pain relievers, etc.) available for general use in the conference room.
270 sq. ft.
Medical Bay
The KM has a dedicated hospital area with two hospital beds, bathroom facilities, and medical supplies. At least two members of the crew are trained as Medical Person In Charge (MPIC). The Academic Research Fleet (UNOLS) including the UHMC subscribes to the George Washington University Maritime Medical service, which provides a team of physicians providing medical advice for remote locations and ships at sea.
DECK 1
The KM's 01 deck provides space for three scientific vans or containers and access to the fast rescue boat. When in port away from home, the ship is accessed via a gangway on the 01 deck near the portside container lockdowns. The life rafts are also on this deck. Inside are most of the scientific state rooms (aft), the computer lab and the ET shop, engineering spaces, the lounge and staterooms (forward) for crew and the marine techs.
Computer Lab
The computer lab is primarily the data control center of the KM. This is where acoustic, meteorological, and many other in-situ measurements are collected and stored on site. This is also where you will most likely find your shipboard techs if they aren't on the back deck. The computer lab also is home to one of the ship's public computers and one of the ship's network printers.
560 sq. ft.
Lounge and Library
The Ship's Library houses a small collection of novels, reference texts, atlas and SDS sheets for your perusing pleasure. There are also two public computers in this space as well as a copy machine/network printer.
A wall of movies and games are available in the lounge. Anyone is welcome to use this space, but please be quite and respectful. The ship also has a media server which hosts a wide array of movies, books, and TV shows. Ask OTG for help accessing the media server.
Science Party Staterooms
Staterooms are located on decks 1 and 2 with a majority of the science party being housed in the aft rooms on deck 1. The layout may vary slightly, but all contain the same standard bunked beds, lockers, dresser, desk and sink. A head with shower and toilet is shared between two staterooms. Scientists are responsible for cleaning their own rooms before and after their expedition. Linens are provided and should be returned to the laundry room after the expedition.
MAIN DECK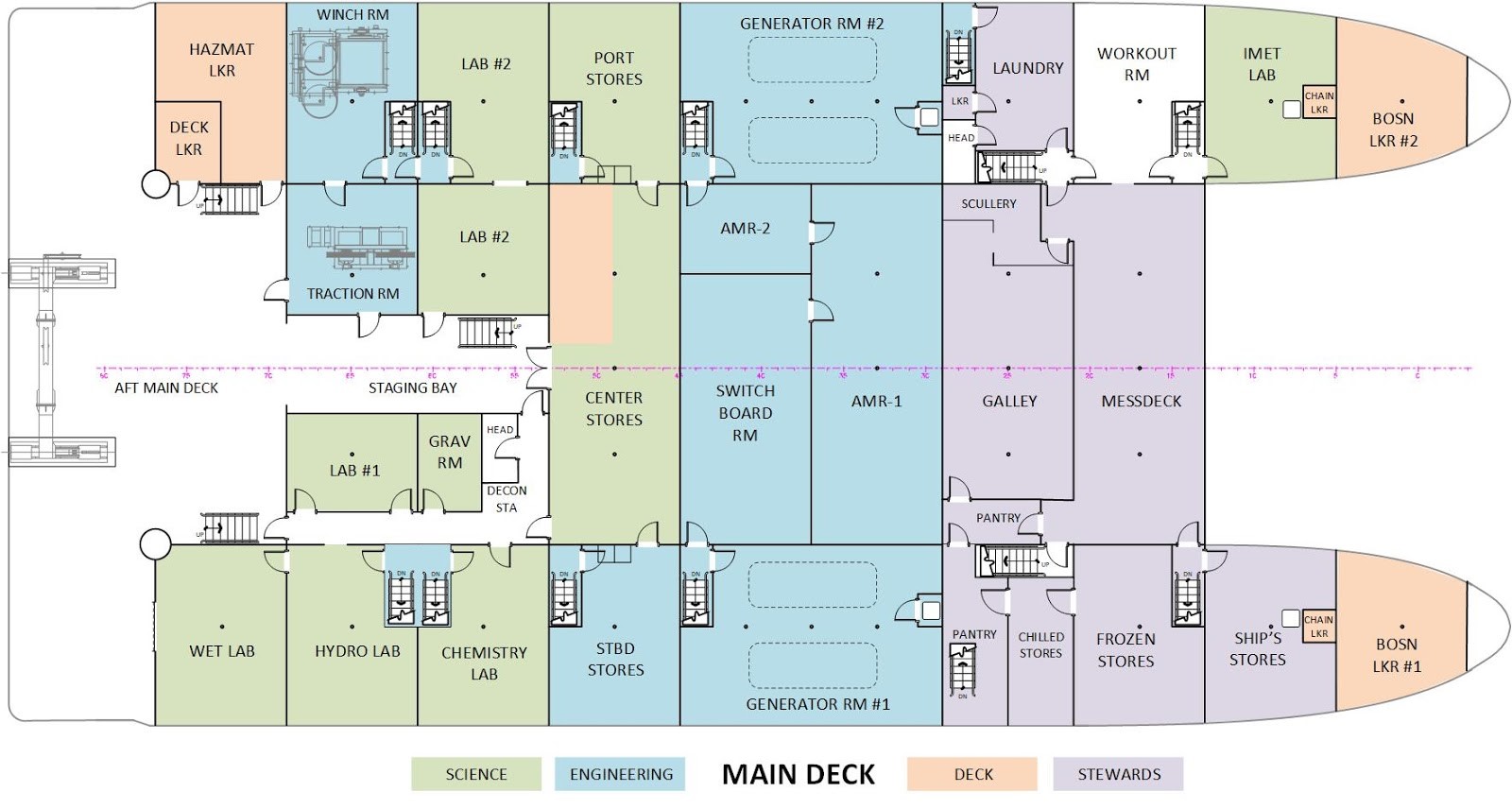 The KM's main deck aft is where equipment deployment and recovery and over-the-side sampling takes place. At homeport, the ship is accessed via a gangway on the main deck so this is, in effect, the "front door" of the vessel. The staging bay allows equipment to be moved from the main deck to a sheltered space. The staging bay is also the scientific party's muster location for all drills and emergency musters. Several laboratories are clustered around the main deck and staging bay. Scientific storage space is forward of the staging bay. Forward of that are engineering spaces, the galley, the mess deck and food storage. The I-Met lab is on the main deck in the port hull.
Main Deck Laboratory Spaces
There are seven laboratory spaces aboard the KM. Most of these labs are adjacent to the main aft deck and staging bay. From port to starboard, these include Lab #2 (560 ft2 or 52 m2), Lab #1 (170 ft2 or 15 m2), the Chemistry Lab (290 ft2 or 27 m2), the Hydrographic Lab (290 ft2 or 27 m2), and the Wet Lab (320 ft2 or 30 m2). The Wet Lab has direct access to the aft main deck. All of these labs have sinks with both freshwater and underway sea water available. The Chemistry Lab is also equipped with a fume hood. The ship's gravimeter is housed in a locked space forward of Lab #1.
I-Met Lab
The Met Lab is the forward most lab, just forward of the ship's library. This lab is the first point of contact for the scientific seawater system. This lab houses some of the ship's underway systems, like the thermosalinograph, fluorometer, FRRF, and pCO2 system. There is limited bench space in this lab for adding experiments, so please contact your shipboard techs early on in the pre-cruise planning process so that they can accommodate your bench space needs.
270 sq. ft.
Lab #1

Lab #1 is most often utilized as the CTD control center. This is where countless grad students have been sentenced to monitoring CTD data profiles and firing bottles. A VHF radio is available in this room to maintain communications with the winch operator up in the Dog House or the Techs on the back deck. Other operations that require cable runs to the back deck will often use this lab because of an easily accessible pass-through in the aft bulkhead.
170 sq. ft.
Lab #2

Easily the largest lab on the KM, Lab #2 is a great multipurpose lab, complete with ice maker, sink, and an easily accessible pass through for cabling to the Staging Bay.
260 sq. ft.
An extension of Lab #2, Lab #2A is another large multipurpose space equipped with two sinks. This is also usually the location of one of the public wireless routers.
300 sq. ft.
Chem Lab
The farthest forward lab on the starboard side, the Chem. Lab contains a fume hood for volatile experiments, a hazmat locker for daily use chemical storage, and also the ship's D.I. and R.O. water makers. There is also a mini-fridge for daily use chemicals that need to stay chilled.
290 sq. ft.
Hydro Lab
Directly forward of the Wet Lab, the Hydro lab is a multipurpose lab that is most often utilized for filtration experiments. A 3 gas bottle rack is located in this lab to support such operations. A public computer is located in this lab as well.
290 sq. ft.
Wet Lab

The Wet Lab, where all of the wet work occurs. This lab opens up to the back deck via a hand operated roller door and contains a fume hood for chemical work. This lab is a shared use space, the outboard aft corner belonging to OTG, don't worry though the techs bark is usually worse than their bite.
320 sq. ft.
Staging Bay and Science Stores
The Staging Bay is a multipurpose area that usually sees a lot of foot traffic. The CTD is also often time stored in this bay for more comfortable sampling of the package. This space can also be used as a storage area, or for staging upcoming experiments. The Staging Bay is also the designated muster area for the science party, so in the event of any sort of emergency situation, this is where you will gather for a head count and specific instructions on emergency response.
370 sq. ft.
This is a large space at the middle of the Main Deck designed for storage of science gear. Multi-tiered shelving provides storage for boxes and crates. Equipment can be moved into the room through the staging bay door.
145 sq. ft.
Galley and Mess
Guidelines for using the Mess:
Head of line privileges to those on watch.
Limited seating. Please eat and then leave to make room for others.
Let galley crew finish up their job.
Ice cream, sandwich material and snacks available on the mess decks and in the mess deck refrigerators; please stay out of walk-in refrigerator/freezer
Use paper and plastic plates, cups, utensils at night.
Meal Times at sea:
Breakfast 0715-0815
Lunch 1115-1215
Diner 1700-1800
Mess deck is secured 1230-1400 and 1900-1945 for cleaning.
Workout Room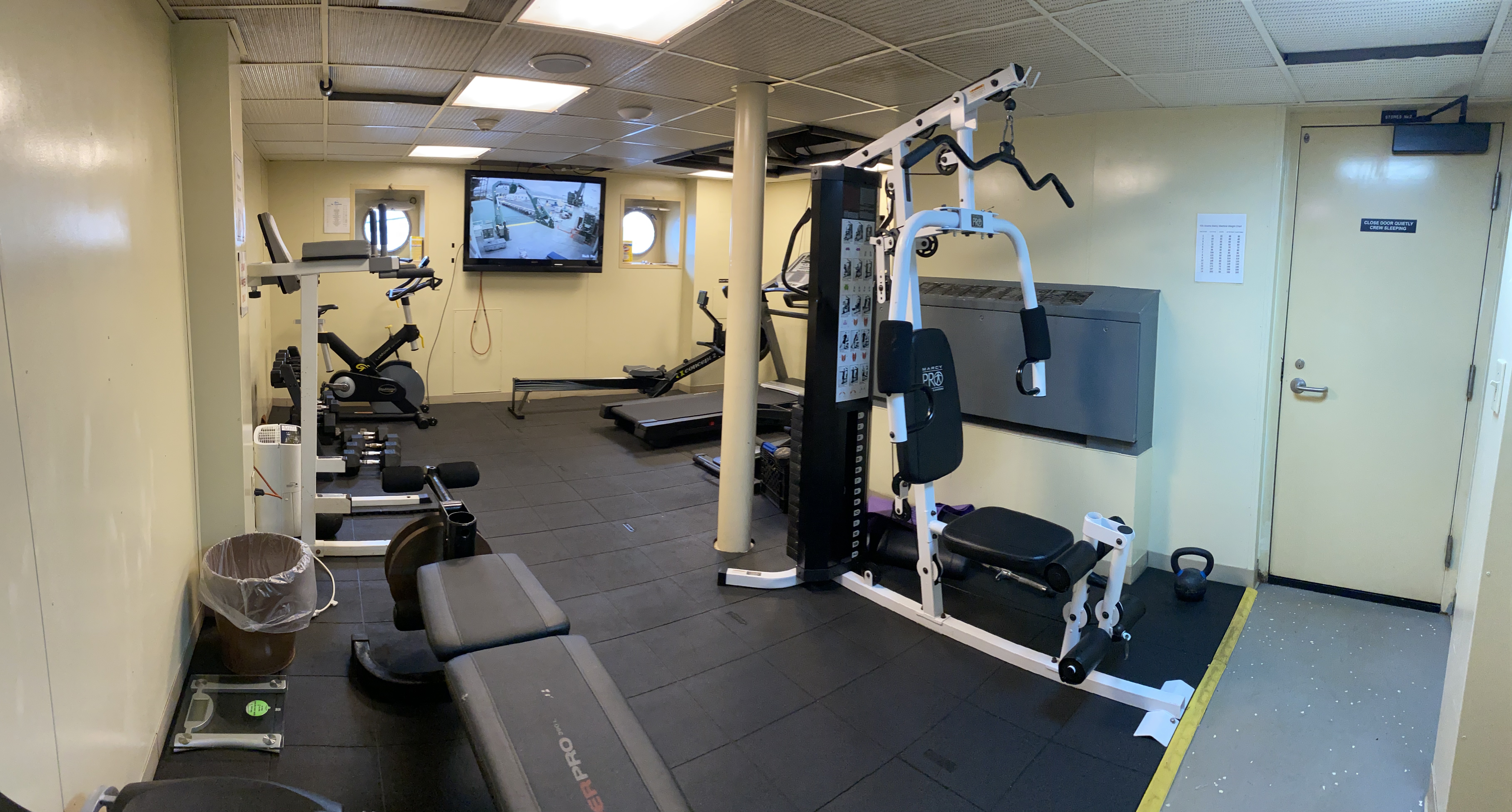 There is exercise equipment on the ship, including: free weights, treadmill, bike, elliptical, rowing machine, and yoga mats. It is not an overly large space, and operates under a first-come first-serve basis. Please be patient and considerate of others when using the gym space, and clean the equipment after you're done with it.
Laundry Room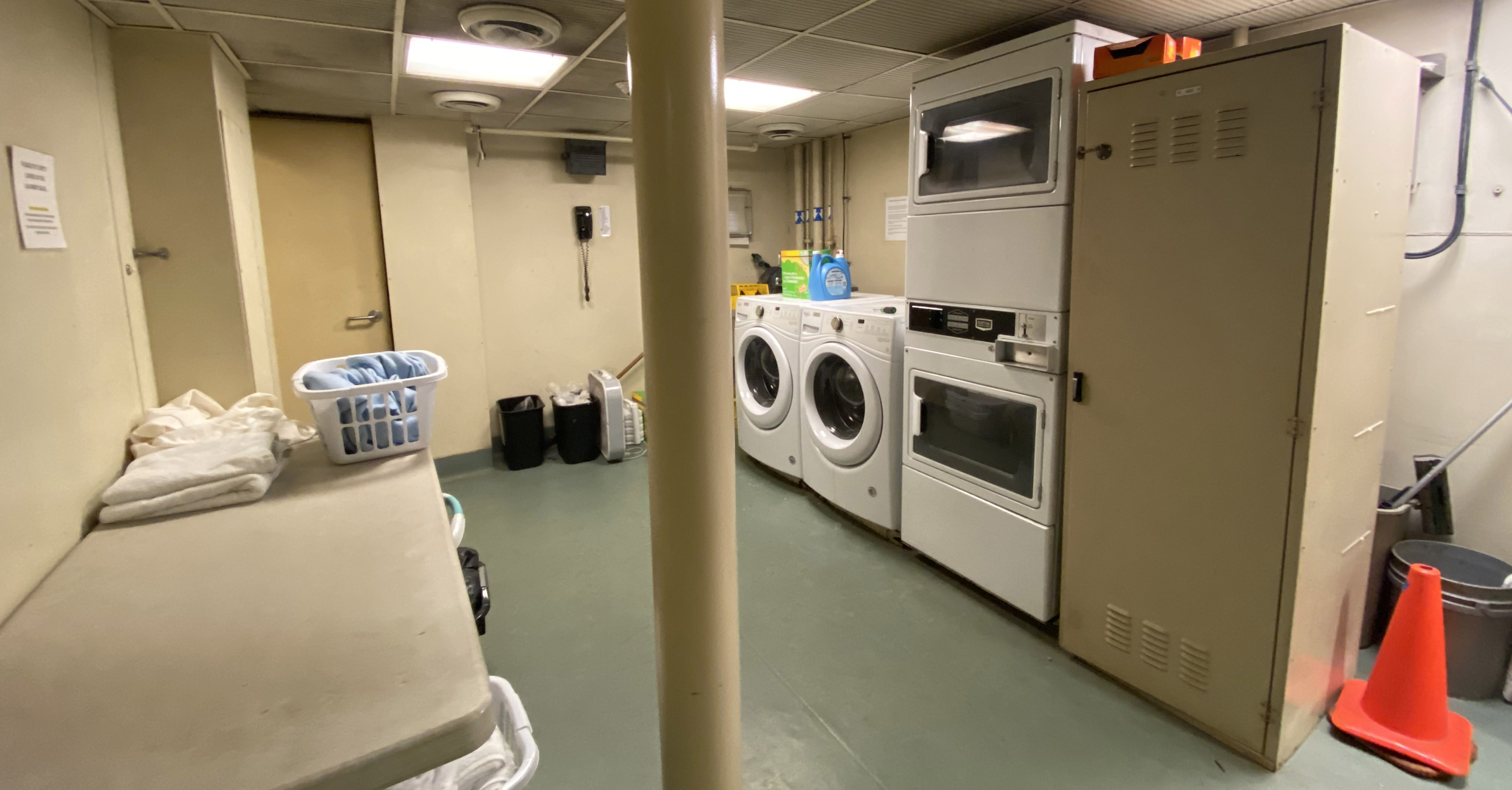 The KM has two washers and two dryers to share amongst the entire ship's populace. To accommodate everyone onboard, each department has its own designated laundry day. The Science department's laundry days are Friday–Sunday. Laundry soap is provided, but if you need something special, you should bring your own. To save water, only do full loads. Linens and towels are also provided for you, but you are responsible for washing them regularly during your expedition.
PLATFORM 1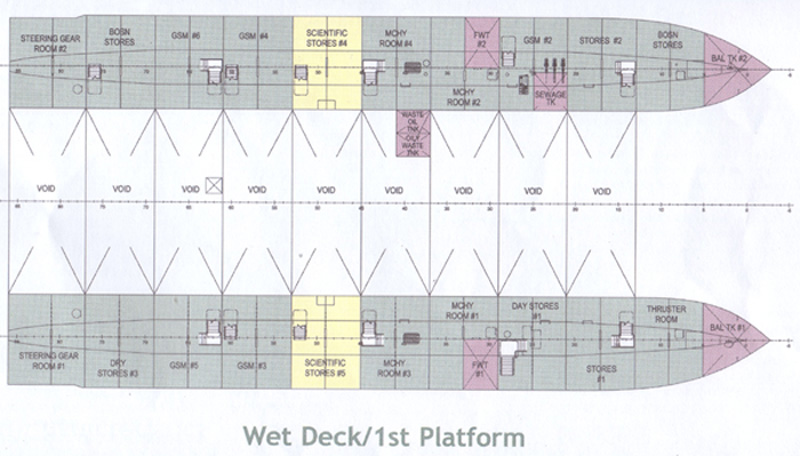 PLATFORM 02
PLATFORM 03
Underway Science Seawater Intake

The easiest source of seawater on board the KM is to tap into the ship's standard science seawater in one of the various labs. This water comes from a suction port about 25' below the waterline on the forward starboard hull section. It is distributed throughout the ship's labs via Teflon coated and/or PVC piping (depending on location).

The pumps are March Model TE-8K-MD. The housing is polypropylene and utilizes magnetic drive to eliminate penetration of metal motor shaft and need for a seal. UNC SW piping is polypropylene lined steel flanged pipe. The pipe lining forms a gasket on the flanges.




Data Logging/Processing Computers

Linux-based data logging system, SISCON, remote serial data acquisition with UDP data stream to centralized loggers
Network attached server storage: Dell/EMC PowerEdge R740XD
Remote Data displays: desktop PCs, laptop PCs & TV monitors (20+)
Email Communications: HiSeasNet (VSAT) and dual Fleet Broadband 500 Systems
Printer HP Color Laser Printers (from letter size to 11"x17")
Xerox AltaLink C8045 copier/scanner

Navigation and Timing Equipment

Applanix POS/MV Oceanmaster (ver. 5) – GNSS-aided inertial navigation system with Fugro Marinestar precise positioning system subscription
Furuno GP-170
Underwater Navigation: Sonardyne Ranger II USBL housed on a Simrad HL 3880 transducer stem with a 13" gate valve
Spectracom NetClock/GPS 9383 Timeservers (2)

Geophysical Sonar Equipment

Multibeam – Simrad EM710: 1° x 1° system, 70-100 kHz swath mapping, 10-1800 m depth range
Multibeam – Simrad EM122: 1° x 2° system, 12 kHz swath mapping, 300-11,000 m depth range
4 kHz Sub-Bottom Profiler – Knudsen 320B/R deck box + array of sixteen TR- 75 Massa transducers
Sippican MK-21/PC Based XBT system with hand held launcher
Onboard technicians support the multibeam hardware, software, and data acquisition, including QA-QC and archiving. Scientists must provide data processing and map development. QPS Qimera multibeam processing software is available for use by the scientific party.

Marine Geology and Geophysics Equipment

Gravity Meter, Bell BGM-3 Marine Gravimeter
Land Gravimeter for land ties, Lacoste R serial # 1
Magnetometer, Geometrics Model G-882 Cesium
Rectangular dredges**, 18″ x 48″ with a 60″ chain link bag
Rock Saw, Model 80BQ Sowers Cut-Off Saw
Gravity Coring Equipment,**, capable 20 ft cores & 40 ft cores
Ocean Instruments MC-800 eight-station multicorer

**needs advanced planning – Contact UH Marine Center.

Oceanographic Instrumentation

RDI 38 kHz and 300 kHz ADCPs with UHDAS acquisition and display software
Seabird SBE 9/11plus CTD housing with pressure sensor, rated for 6,800m depth rating, equipped with:

- 2 Sea-Bird SBE 3P temperature sensors

- 2 Sea-Bird SBE 4C conductivity sensors

- 2 Sea-Bird SBE 43 dissolved oxygen sensors

*Other auxiliary sensors can be included by prior arrangement:

Biospherical QSP-2300 log scalar PAR sensor (2,000 m depth rating),
Wetlabs ECO FLNTU Chlorophyll Fluorometer & Turbidity sensor (6,000 m depth rating),
Seapoint SCF Chlorophyll Fluorometer (6,000 m depth rating),
Wetlabs C-Star 25 cm transmissometer (6,000 m depth rating),
Applied Microsystems SVPlus sound velocity profiler (5,000 m depth rating).
For casts being conducted near the sea bottom an altimeter or a 12 kHz acoustic pinger will be attached to the frame to monitor the package's height off the sea floor.
Water samples can be collected with 12 L PVC sampling bottles with internal Teflon-coated springs. The bottles can be triggered at any depth with a Seabird SBE 32 carousel.
24-bottle and 12-bottle rosette frames are available.
Underway scientific seawater system available in Hydro Lab, Chemistry Lab, Wet Lab, Lab 1, Lab 2 and IMET Lab
Sea-Bird SBE 45 MicroTSG Thermosalinograph
Fluorometer, Turner10-AU-005 (Continuous sea water flow-Benchtop model)
Fast repetition rate fluorometer (FRRF)
Seawater available in labs
General Oceanics Model 8050 underway pCO2 measuring system
Sippican MK-21/PC Based XBT system including hand held launcher
Barnstead Millipure Deionized Water System
Thermo Scientific Revco UxF -86°C freezer, 25.7, ft3 capacity
4 Cospolich Freezer/Refrigerator units, individually controllable between -17°C and +4°C (total capacity, 19 ft3)

Meteorological Systems

Campbell Scientific Micrologger CR3000
RM Young Wind Monitor 5016-5 MA, port and starboard
5106 Vaisala PTB220 Barometer (class A)
Rotronic Hygromers MP101A-C5 – Humidity Probe
RM Young 50203 Precipitation Gauge
OSI Optical Range Gauge (ORG)
RM Young RTD 41342 Resistive Temperature Device
Eppley Precision Spectral Pyranometer (PSP)
Eppley Precision Infrared Radiometer (PIR)
Biospherical QSR-2200 Scalar Surface Photosynthetically Available Radiation (PAR)

Additional General Purpose Equipment

1 – Benthos 2216 12kHz Pinger
Tritech Altimeter PA200/20-6K8
Benthos Acoustic Transducer & Deck Box, DS-7000-1; EdgeTech 8011AT Deckbox
2 – OAR VHF radio Beacons;
2 – OAR High Intensity Strobe Flashers
Ship has two primary air compressors rated for 200PSI@40.5 CFM each with additional auxiliary capacity available of 125CFM@125PSI.
Fisher Scientific Drying Oven, Model 13-246-516GA (3511FS), 1.7 ft3 capacity
Misc. analog & digital scopes and function generators

Radioisotope Laboratory Van

Packard Bioscience Tri-Carb 2900TR liquid scintillation counter and color printer
Fume hood (26"x20")
Two refrigerators, 8.7 ft3 (246 L) each
Counter space, 38 ft2 (3.5 m2)

Handling Equipment

The aft portion of the main deck is configured to carry, launch, and recover equipment over-the stern and over-the-side. Deck equipment is designed to meet ABS certification for lifting gear and 46 CFR requirements. Installation permits a variety of oceanographic operations at sea, including: coring, water sampling, equipment launch and recovery, and array and trawl towing. All working deck areas include deck bolts on a 2' x 2' grid pattern for securing itinerant scientific equipment.

Stern U-Frame

A Dynacon U-Frame is mounted on the transom to launch and recover oceanographic equipment and support cable running from the traction winch. It is designed to handle 30,000 lb. towing load and 20,000 lb. luffing load and reach 12 feet beyond the transom. It is configured for towing .681 electro-optical cable, .680 coaxial cable and 9/16" 3×19 trawl wire.

Cranes and Winches

A North American, MCT-2555 heavy lift crane is installed on the port side to load and off load and move equipment around the aft working deck. Depending on boom angle it has max capacity of 8 tons at 35 ft radius and 4 tons at 55-foot radius. SWL of wire is 9820 lbs.
Hawboldt SPRE-5242/RS automated heave-compensating CTD winch and a Hawboldt HAW43-20K knuckle-boom crane. The system can carry up to 10,000 m of .322 EM wire.
A Dynacon traction unit and storage drum are located in the winch and wire rooms on the main deck. The drum can carry 10,000 meters of either .681 electro-optical cable, .680 coaxial cable or 9/16" 3×19 trawl wire. An additional storage drum can be carried on the 02 deck to allow more than one type of wire to be used on a given cruise.

Other Portable Equipment

SeaMac winch, model 215EHLW (W1), small winch for magnetometer towing. 1,800 lb line pull with bare drum. Speeds up to 60 m/min. Empty weight 1,980 lbs.
DSE retriever winch, model 11805-NS (W2), often used for trace-free CTD casts using Amsteel line. 1,300 lb line pull with bare drum. Speeds up to 30 m/min. Empty weight, 1800 lbs
SeaMac winch model 1025EHS (W3), often used for mooring deployment and retrieval. 3,200 lbs line pull with bare drum. Speeds up to 60 m/min. Empty weight 5,200 lbs.
TSE mooring winch model TSE-III (W4), often used for mooring deployment and retrieval. 7,500 lbs line pull with bare drum. Speeds up to 60 m/min. Empty weight 6,700 lbs.
Harken 20″ Block – trace metal free, with wire-out, rate & tension readout. Logging capable.
Small capstan (C1), Northern Line model 3354-EVC with 18″ drum. 5,000 lbs line pull at 20 m/min; 10,000 lbs line pull at 10 m/min. Empty weight 1,850 lbs.
Large capstan (C2), Northern Line model 353-DN-624 with 24″ drum. 7,500 lbs line pull at 32 m/min; 15,000 lbs line pull at 18 m/min. Empty weight 8,200 lbs.
Ingersoll Rand air tugger winches, 1000 lb line pull with bare drum.
KM Drydock - 2012

Between the hulls

Port Bow

W-EM710 Pod

Stbd Bow

Stbd Bow

Between the hulls

Moon pool.

Port hull

Port hull, EM710 pod

Port hull, EM710 pod, stbd profile

Port hull, EM710 pod, aft overview

Port hull, EM710 pod, aft end

Port hull, EM710 receive array

Port hull, EM710 transmit array

Port hull, EM122 receive array

Port hull, EM122 transmit array

EM122 array & HPR stem

Port hull, WH300 ADCP

Port hull, HPR transducer stem

Port hull, HPR transducer stem

Port hull, sea chest

Port hull, sea chest open

Port screw and rudder

Port screw

Stbd hull, bow thruster

Stbd hull, OS38 ADCP & stbd transducer tube

Stbd hull, OS38 ADCP

Stbd hull, bridge echosounder

Stbd hull, transducer tube

Stbd hull, sea chest

Stbd hull repair

Stbd Screw & Rudder

Stbd Screw

Stbd Screw

Stern



Simrad HL3880 Transducer Stem


Underway seawater intake - 2005


Delivery cruise - 2002


Ship's Blessing - 2002


In Port Ship Numbers: (808) 587-8566 | (808) 587-8567
Voice: 011-870-773-234249
Fax: 011-870-783207825
IRIDIUM: 1-480-768-2500 THEN, 881631830418
Cell: (808) 864-0065
Kilo Moana Master: master@km.soest.hawaii.edu
Marine Technicians, both out to sea and in port, can be reached via: soest-otg@lists.soest.hawaii.edu