Research Focus
My students and I use numerical models of solid and fluid mechanics to study mantle convection and melt generation beneath mid-ocean ridges as well as hotspot island chains like Hawaii. More recent studies include computational geophysical studies of lithosphere deformation and faulting at both divergent and convergent plate boundaries. Students who work with me have backgrounds in math and physics and interests in computer programming.
Potential Projects
Analyze high-resolution maps of seafloor topography to measure faults and magmatism at mid-ocean ridges
Computer modeling of the creation of fold and thrust-belt mountains ( see movie on YouTube)
Research focus
Hawaiian aquifers are leaky, and large amounts of groundwater pour out at the shoreline in form of coastal springs and seepage. This process is called submarine groundwater discharge (SGD). Our findings indicate that there is at least as much groundwater flow as stream discharge to every embayment or stretch of coastline on the Hawaiian Islands. This non-point source pollution has a chronic impact on coastal water quality. We use geochemical tracers to study the distribution, magnitude, and composition of SGD. We are interested in natural and anthropogenic effects as well as sea-level rise, climate change, and pollution on SGD and coastal ecosystems.
Potential projects
Quantifying spatial distribution of groundwater discharge along Oahu's shorelines using geochemical tracers
The drivers of groundwater discharge: high-resolution submarine groundwater discharge monitoring using geochemical tracers in Kona
Geophysical surveys of the dynamics of coastal aquifer and ocean interaction - how will sea-level rise affect groundwater discharge?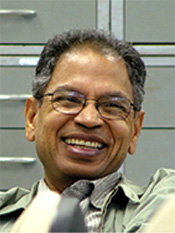 Research Focus
I am a Professor of hydrology, Department of Geology and Geophysics and a Researcher at the Water Resources Research Center (WRRC). I also serve as the Associate Director of WRRC. My research deals with aassessing effects of climate change and land-use practices on aquifer sustainability; watershed assessment and modeling; application and assessment of various types of groundwater models; analysis of dissolved helium transport in aquifers; modeling multiphase flow and transport of hydrocarbons; numerical modeling; flow and transport in field soils; databases and geographic information systems; bioremediation in tidal aquifers; contamination by agricultural, cesspool sources, and arsenic.
Potential Project
In this project, the REU will experimentally study the use of both salt and fluorescein dye as tracers to determine the velocity of water movement through porous media and to examine the dispersion effect caused when fresh water displaces brackish water or vice versa. The REU will complete bench-top laboratory scale experiments including the use of both a sand column and a sand tank to demonstrate the transport process and the multi-dimensional transport effects. The sand tank includes simulated injection and pumping wells. The REU will utilize conductivity and colorimeter equipment for measuring concentrations. In addition to the experimental work, the students will apply user-friendly mathematical models in simulating the time development of concentration results and estimating transport parameters through model calibration.
Research Focus
The Coastal Geology Group uses remote sensing, field observations, and modeling to describe the impacts of future sea level rise on Pacific island communities. Specifically, we monitor shorelines to track beach dynamics, use historical aerial photographs to assess patterns of long-term changes on beaches, apply a number of models to project future erosion, wave run-up, and groundwater inundation as a result of future sea level rise, and we drill and map reefs to determine past sea level changes and how they influenced shorelines in Hawaii and on atolls elsewhere in the Pacific.
Potential Projects
Working with remote sensing software to analyze shoreline behavior and development patterns.
Processing sedimentary and reef samples to interpret past changes in sea level.
Monitoring beach dynamics and groundwater behavior to build databases in support of modeling.
Research Focus
Hawaiian volcanism is central theme of my research. Rocks are the tools I use to understand the internal processes with these volcanoes. My research examines all facets of the history of magmas from their source to the surface. Currently, I am working on the active eruptions of Kilauea, as volcanoes as well as the older, extinct ones to resolve how magma is generated in the mantle and what happens to it during its ascent to the surface.
Potential Projects
What is the thermal structure of the lithosphere under Honolulu? Use mantle xenoliths from recent eruptions in Honolulu to infer their pressures and temperatures prior to being picked up by erupting magma.
Petrology of Kilauea tephra: Implications for its explosive eruptions. Determine glass and mineral compositions by microprobe to infer magmatic history of some explosions at Kilauea.
Research Focus
Generally unseen and infrequently measured, submarine groundwater discharge (SGD) can transport large loads of nutrients and other land-based contaminants to coastal waters. My research group studies these processes, and we investigate the connections between differing types of land use and the flow of water and nutrient fluxes from land into the coastal ocean. Our research uses thermal infrared imaging from traditional aircraft and unmanned aircraft systems (i.e. "drones") to locate and measure the magnitude and dispersal of SGD that enter the ocean from land, as well as differentiate this flow from that of rivers and streams. We also use geochemical and stable isotopic techniques to determine the land-derived sources from which those waters and the nutrients and other dissolved loads they carry to the ocean were derived. Our research is further directed at using stream flow measurements and groundwater-modeling efforts to quantify transport flow paths and water and nutrient discharge rates. A major goal of our research is to understand how these systems impact the health and sustainability of our coastal waters and their ecosystems.
Potential Projects
Using thermal infrared imagery captured by drones to locate and quantify the extent of stream and submarine groundwater discharge that enters the coastal waters of Hawaii.
Sampling of ground, surface, and coastal waters for water quality and isotopic signatures to understand groundwater transport and its sources of origin from land.
Creation of a water budget for individual watersheds to determine nutrient transport.
Research Focus
My research interests are in mantle geochemistry, and magmatic processes that shape oceanic volcanoes. The majority of my work focuses on the use of radiogenic (Pb, Sr, Nd, Hf) and stable (Fe) isotopes, as well as major and trace element abundances to look at the sources and processes that form volcanic rocks. In particular, I work on volcanic chains that occur in the middle of the tectonic plates (so-called hotspots), studying how the volcanoes are constructed, how they relate to the tectonic plates, and how they relate to the world-famous example of the Hawaiian Islands.
Potential Projects
Characterizing compositional variations in rocks and minerals using laser induced breakdown spectroscopy (LIBS)
Establishing the source conditions of mantle xenoliths with major and minor element abundances
Evolution of isotopic composition in hotspots over time
Research Focus
Students who have worked with me have explored a broad range of physical processes in geology, especially in structural geology and engineering geology. Much of the research addresses fracture phenomena (e.g., fault development, joint formation, and dike propagation). The effects of topography on stresses near the surface of the Earth and on rock fracture have been a particular focus.
Potential Projects
Development of pit chains on Kilauea volcano
Formation of sheeting joints ("exfoliation joints")
Development of fault systems on Kilauea volcano
Research Focus
Brian is a professor of Geology & Geophysics at the University of Hawaii and director of the UH Stable Isotope Biogeochemistry Laboratories. He is also faculty in the UH Marine Biology Program and is graduate faculty in the Department of Oceanography and in the Department of Ecology, Evolution and Conservation Biology. Brian has made significant contributions to the fields of isotope biogeochemistry, the origins of trace gases in seawater, and hydrothermal vent biogeochemistry. He is best known for his contributions to the emerging field of biogeochemistry. These research results have been published in over 125 papers in international peer-reviewed journals. His Geochimica et Cosmochimica Acta publication with co-authors Edward Laws and Robert Bidigare from UH was recognized by the Geochemical Society as the 1995 Best Paper of the Year. Brian is a Fellow of the Geochemical Society and European Association for Geochemistry and was also selected as a Frolich Fellow at the CSIRO Marine Laboratories, Hobart, Australia (2011). He has received over $15M in research grants from the NSF, NOAA, USDA and the USGS and has been chief scientist on more 20 oceanographic research expeditions.
Potential Projects
Understanding the ecology of marine organisms using stable isotope analyses
Study of ammonia and polyamine oxidation in the ocean
Study of mercury bioaccumulation and biomagnification in marine animals
Research Focus
My research group specializes in crustal deformation of seismically active plate boundaries and planetary surfaces. Our research combines time-dependent modeling techniques with GPS, InSAR (Interferometric Synthetic Aperture Radar), tide gauge, and paleoseismic data to study the dynamics and stress evolution of the lithosphere and asthenosphere along tectonically active systems, and to assess emerging seismic hazards.
Potential Projects
Synthesis of GPS measurements and 3D crustal deformation modeling to investigate earthquake cycle slip associated with the 2006 Big Island earthquake sequence
Investigating stress triggering and stress evolution of Big Island earthquakes