Pisces IV Deep Diving Manned Submersible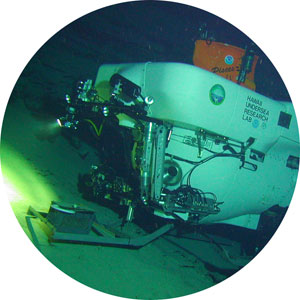 GENERAL DATA
Length: 20'
Width: 10' 6"
Height: 11'
Weight: 13 tons
Payload: 250 lbs.
Crew: 1 Pilot 2 Observers
Life Support: 140 hours for 3 people
Max. Operating Depth: 6,500 ft. (~2000 m)
Power: 2 lead-acid battery systems:

120 VDC at 330 Ah capacity
12-24 VDC at 220 Ah cap.

Propulsion : 2 side mounted reversible thrusters tiltable through 100 degrees
Speed: 3 Kts.
Duration: 7-9 hours
CONSTRUCTION
Builder: International Hydrodynamics of Vancouver, British Columbia
Classed by American Bureau of Shipping
Materials: Personnel sphere, Trim spheres: HY 100 steel
Frame: Welded, oil-filled, pressure compensated 4130 tubular steel.
Viewports: 3 forward looking acrylic windows, 6" dia interior-14" dia exterior
Penetrators: (28) 316 SS inserts to pass electrical, hydraulic, air and oxygen supplies through the hull.
LIFE SUPPORT
Oxygen and CO2 absorbent for daily use is sufficient for twice normal mission duration.
Independent emergency supplies available for 120 hours for 3 people.
Full face air masks available in case of cabin air contamination.
MSHA-NIOSH approved self-contained Oxygen-Generating Breathing Apparatus available for 3 crew.
SYSTEMS
Buoyancy Control
Soft ballast tanks displace a total of 1904 lbs. Using H.P. air.
Droppable descent/ascent weights.
Hard ballast tanks and hydraulically powered seawater pump give 450 lbs. of trim adjustment.
H.P. Air
Carried in 5 externally mounted cylinders with a total capacity of 600 scf at 3000 psi. Used for ballast system and emergency breathing apparatus.
Oxygen
Two 22 ft3 cylinders available for daily use. Independent emergency supply in 4 externally mounted cylinders has a capacity of 480 cu. ft. at 3000 psi.
Ventilation
Cabin Atmosphere is monitored by oxygen analyzers. Oxygen level is maintained by constant flow. CO2 is removed by a electrically powered scrubber unit and granular CO2 absorbent material.
Hydraulic System
Electric pump and solenoids provide 3 gallons per minute at 3000 psi to the following equipment:

HYCO manipulator
Basket basket up and down
Ascent/Descent weight drop cylinders
Thruster tilt
Movable drop weights
2 camera pan and tilt system
Tiltable scanning sonar head
2 spare functions for science equipment
A separate dedicated hydraulic system operates a Schilling Orion manipulator.
Controls and Instrumentation
The pilot has available all controls necessary for the operation of all submersible systems in both normal and emergency situations including thruster controls, buoyancy controls and indicators, battery condition instruments, depth and pressure gauges, magnetic compass, life support monitoring instruments and controls, and surface and underwater communications.
EQUIPMENT
The submersible is equipped with the following items and can be configured as necessary to accommodate a variety of mission requirements.
Insite Pacific MINI-ZEUS HDTV camera
ROS low-light CCD color camera
B&W low-light wide-angle CCD
Digital video recorders
Two hydraulically operated manipulators
General purpose science basket
Applied Microsystems electronic CTD profiler
Tritech SeaKing digital HD sonar
Kongsberg-Simrad 1007 200 m altimeter
Benthos multi-frequency pinger receiver
TrackLink 5000HA USBL submersible tracking system
Sonatech long baseline acoustic tracking system
External lights: 3-250 W, 2-500 W tungsten 2-400 W HMI's available
2 KVH digital magnetic compasses
Externally mounted temperature probes with internally mounted monitors
Suction sampler 8-bottle Rosette
Hydraulic cutters
Hydraulic rotary saw
Laser scaling system
Push core samplers
Sealable sediment scoops - 4 arrays of 9 samplers, capacity ~1kg ea
Water samplers - 2 arrays of 6 samplers, capacity ~700ml ea
SAFETY FEATURES
Jettison equipment:

Main trim weight 500 lb
Port emergency drop weight 250 lb
Starboard emergency drop weight 250 lb
Thrusters can be jettisoned in the event of entanglement

Extended life support capacity for 3 to 5 days, mainly dependent on crew weight
Salt water leak detectors in bilge, battery boxes, electrical junction boxes, and controllers
Acoustic locating pinger receiver system
Emergency self contained re-breathers
Full face mask air breathing system for contaminated atmosphere
Emergency life support rations, water, and space blankets
One main and one backup 24 VDC emergency battery power banks to power:

CO2 scrubber
circulating fan
cabin lights
underwater telephone
VHF radio
tracking transponder
hydraulic solenoids
Soft ballast tanks have an accessible exterior port to allow a rescue vehicle to insert an external air source to add buoyancy.
[ Top of page ]