ESVI: Earth Science on Volcanic Islands
Research Experience for Undergraduates (REU)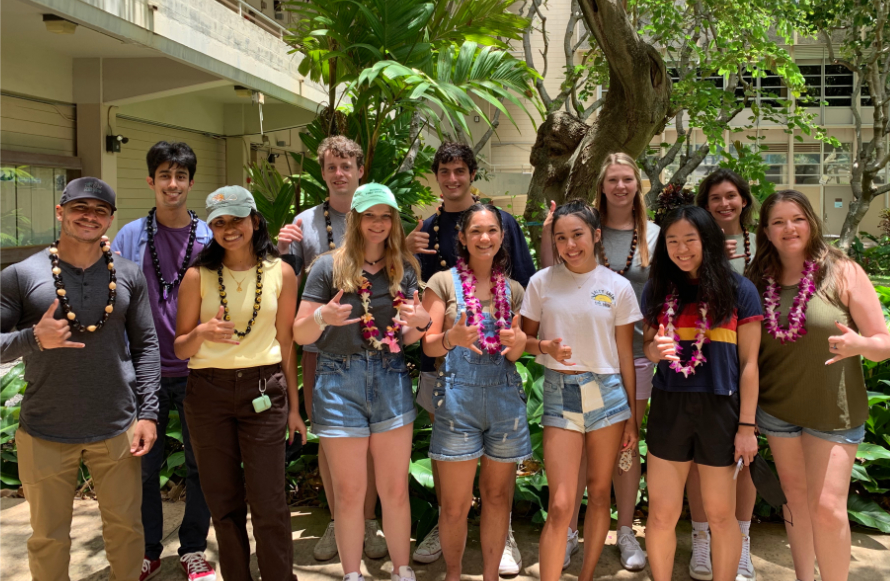 The ESVI REU program will be on hiatus for Summer 2023. Information regarding the program for Summer 2024 will be updated on the ESVI REU website in Fall 2023.
Participate in cutting-edge geoscience research in Hawai'i!
The ESVI REU Program at UHM offers 10 motivated undergraduates the opportunity to engage in independent research with scientist mentors at the University of Hawai'i at Mānoa. Participants in this 9-week program receive a stipend of $5,000 plus travel and room/board**. Students also participate in field trips to sites of active volcanism and a short marine expedition on a research vessel.
Our program is open to US citizens, US nationals, or permanent residents of the US currently enrolled in undergraduate studies leading to a bachelor's or associate's degree. Minorities and students from institutions with limited undergraduate research opportunities are particularly encouraged to apply.
ESVI REU Flyer
Click here or on the above image to download the flyer PDF.
Timeline
Application Season
• January/February - Applicaion deadline
• Early March - REU selection notification
• Late March - All applicants notified of application status

ESVI REU Program
• April/May - cohort building and preparation meetings (zoom)
• June/July - 9-week summer REU program
Research Areas
The themes of this REU take advantage of the unique tropical volcanic island and surrounding marine environments in Hawai'i, which are found nowhere else in the US.
Volcano studies at active and inactive Hawaiian volcanoes:
Volcanology • Geophysics • Geochemistry • Petrology
Environmental Science in tropical watersheds and coastal environments:
Geohydrology • Geobiology
Ocean and atmospheric processes:
Oceanography • Atmospheric Science • Climate Science
Application Info
Visit our Application page for information. Please note that we will not be hosting a 2023 ESVI REU.
Media
Visit our Media page for ESVI news articles and documentaries of our former cohorts.
Questions?
Please email us at EarthScience-reu@soest.hawaii.edu.
Funding for this REU site is provided by the National Science Foundationʻs Division of Earth Sciences located in Alexandria, VA. (EAR-1950941) The NSF contact for this program is Aisha Morris. NSF does not handle REU applications; please contact each REU site directly for application information.
The ESVI REU is dedicated to providing a harassment-free educational experience for everyone, regardless of gender, gender identity and expression, age, sexual orientation, disability, physical appearance, body size, race, ethnicity, religion (or lack thereof), or technology choices.
[ Top of page ]