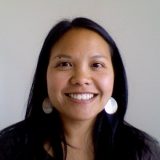 Associate Professor
Department of Oceanography
University of Hawaiʻi at Mānoa
Marine Sciences Building
1000 Pope Road
Honolulu, HI 96822
Phone: (808) 956-0565
Fax: (808) 956-9225
E-mail: rosie.alegado@hawaii.edu
Lab: Alegado Lab
Affiliations
Education
Research Interests
The focus of our research is to understand how bacteria have influenced the evolution of animals and how these interactions impact their ecosystem. Our group's approach is to study the interaction between choanoflagellates, heterotrophic nanoflagellates which are the closest living relatives of animals, and their microbial community. We have established the colonial choanoflagellate Salpingoeca rosetta and its prey bacterium Algoriphagus as a new system in which to test hypotheses about the evolution of interkingdom signaling. Our goal is to elucidate the nature and function of the microbial signals that elicit morphogenic responses in choanoflagellates and how these signals impact the cell biology of other members of the microbial community.
Current Research Projects
Xie G, Wang X, Liu P, Chen W, Hernandez BY, Alegado RA, Dong B, Li D and Wei J. (2016) Alterations in gut microbial ecology and progression of liver pathology. Oncotarget, in review.
McCoy D, Alegado RA, McManus MA, Kotubetey K, Kawelo AH, Young C, DʻAndrea B, Ruttenberg KC. (2016) Large-scale climatic effects on a traditional Hawaiian fishpond. Estuarine, Coastal and Shelf Science, in review.
Alegado, RA and King N. Bacterial influences on animal origins. (2014) Cold Spring Harbor Perspectives in Biology, 6 (11):a016162.
Beemelmanns CB, Woznica SA, Alegado RA, King N, Clardy J. (2014). Synthesis of the rosette-inducing factor RIF-1 and analogs. Journal of the American Chemical Society, 136(29):10210-3
Alegado RA*, Brown LW*, Cao S, Dermenjian RK, Zuzow R, Fairclough SR, Clardy J, King N. 2012. A bacterial sulfonolipid triggers multicellular development in the closest living relatives of animals. eLife,1:200013. Epub Oct 15, 2012, doi:10.7544/eLife.0.00013.
* authors contributed equally
Alegado RA*, Grabenstatter JD, Zuzow R, Morris A, Huang SY, Summons R, King N*. 2012.
Algoriphagus machipongonensis sp. nov. co-isolated with a colonial choanoflagellate. International Journal of Systematic and Evolutionary Microbiology, Epub Feb 24, 2012, doi: 10.1099/ijs.0.03846-1.
*corresponding authors
Dayel MJ, Alegado RA*, Fairclough SR*, Levin T, Nichols SA, McDonald K, King N. 2011. Cell differentiation and morphogenesis in the colony-forming choanoflagellate Salpingoeca rosetta. Developmental Biology 357(1): 73-82.
* authors contributed equally
Alegado RA*, Ferreira S, Nusbaum C, Young SK, Zeng Q, Imamovic A, Fairclough SR, King N. 2011. Complete genome sequence of Algoriphagus sp. PR1, Bacterial Prey of a Colony-forming Choanoflagellate. Journal of Bacteriology 193(6):1485-1496.
*corresponding author
Alegado RA, Chin CY, Monack D, Tan MW. 2011. The two-component sensor kinase KdpD is required for Salmonella typhimurium colonization of Caenorhabditis elegans and survival in macrophages. Cellular Microbiology 13(10): 1618-37.
Alegado RA, Tan MW. 2008. Resistance to antimicrobial peptides contributes to persistence of Salmonella typhimurium in the C. elegans intestine. Cellular Microbiology 10(6): 1259-1273.
Alegado RA, Campbell MC, Chen WC, Slutz SS, Tan MW. 2003. Characterization of mediators of microbial virulence and innate immunity using the C. elegans host-pathogen model. Cellular Microbiology 5(7): 435-44.