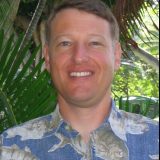 Professor
Department of Oceanography,
University of Hawaiʻi at Mānoa
1000 Pope Road,
Marine Sciences Building,
Honolulu, HI 96822
Phone: (808) 956-6567
Fax: (808) 956-8668
E-mail: jdrazen@hawaii.edu
Website: Deep Sea Fish Ecology
Education
Teaching Activities
Click here to see a completed list of Dr. Drazen's publications.
2020
Tokuda, A.K., Drazen, J.C., Gerringer, M.E., Popp B.N., Grammatopoulou, E., Mayor, D.J. (2020) Trophic interactions of megafauna in the Mariana and Kermadec trenches inferred from stable isotope analysis. Deep Sea Research Pt I 164: 103360
Simon-Lledó E., Pomee, C., Ahokava, A., Drazen, J.C., Leitner, A.B., Flynn, A., Parianos, J., Jones D.O.B. (2020) Multi-scale variations in invertebrate and fish megafauna in the mid-eastern Clarion Clipperton Zone. Progress in Oceanography 187: 102405
Levin, L.A., Wei, C.-L., Dunn, D.C., Amon, D.J., Ashford, O.S., Cheung, W.W.L., Colaço, A., Dominguez-Carrió, C.,Escobar, E.G., Harden-Davies, H.R., Drazen, J.C., Ismail, K., Jones, D.O.B., Johnson, D.E., Le, J.T., Lejzerowicz, F., Mitarai, S., Morato, T., Mulsow, S., Snelgrove, P.V.R., Sweetman, A.K., Yasuhara, M. (2020) Global Change Biology 26
Smith, C.R., Tunnicliffe, V., Colaço, A., Drazen, J.C., Gollner, S., Levin, L.A., Mestre, N.C., Metaxas, A., Molodtsova, T.N.,Morato, T., Sweetman, A.K., Washburn, T., Amon, D.J. (2020) Deep-sea misconceptions cause underestimation of seabed-mining impacts. Trends in Ecology and Evolution 35: 853-857
Leitner A.B., Neuheimer, A.B., Drazen, J.C. (2020) Evidence for long-term seamount-induced chlorophyll enhancements. Scientific Reports 1: 1-10
Romero-Romero, S., Ka'apu-Lyons, C. A., Umhau, B. P., Benitez-Nelson, C. R., Hannides, C. C. S, Close, H. G., Drazen, J. C., Popp, B. N. (in press). Deep zooplankton rely on small particles in response to low particle fluxes. Limnology & Oceanography Letters
Drazen, J.C., Smith, C.R., Gjerde, K.M., Haddock, S.H.D., Carter, G.S., Choy, C.A., Clark, M.R., Dutrieux, P., Goetze, E., Hauton, C., Hatta, M., Koslow, J.A., *Leitner, A.B., Pacini, A., *Perelman, J.N., Peacock, T., Sutton, T.T., Watling, L., Yamamoto, H. (2020). Midwater ecosystems must be considered when evaluating environmental risks of deep-sea mining. Proceedings of the National Academy of Sciences of the United States of America 117: 17455-17460
Motta, L.C., Blum, J.D., Popp, B.N., Drazen, J.C., Close, H.G. (2020). Mercury Stable Isotopes in Flying Fish as a Monitor of Photochemical Degradation of Methylmercury in the Atlantic and Pacific Oceans. Marine Chemistry 223: 103790
Watling, L., Victorero, L., Drazen, J., Gianni, M. (2020) Exploitation of Deep-Sea Fishery Resources. In: Baker M, Ramirez-Llodra E, Tyler P (eds) Natural capital and exploitation of the deep sea. pgs 71-90.
Hannides, C.C.S., Popp, B.N., Close, H.G., Benitez-Nelson, C.R., Ka'apu-Lyons, C.A., *Gloeckler, K., Wallsgrove, N., Umhau, B., Drazen, J.C. (2020). Seasonal dynamics of midwater zooplankton in the North Pacific Subtropical Gyre. Progress in Oceanography 182: 102266
Priede IG, Drazen JC, Bailey DM, Kuhnz LA, Fabian DM, Huffard CA (2020) Abyssal demersal fishes recorded at Station M (34°50'N, 123° 00'W, 4100 m depth) in the North East Pacific Ocean: An annotated check list and synthesis. Deep-Sea Res II 173: 104648