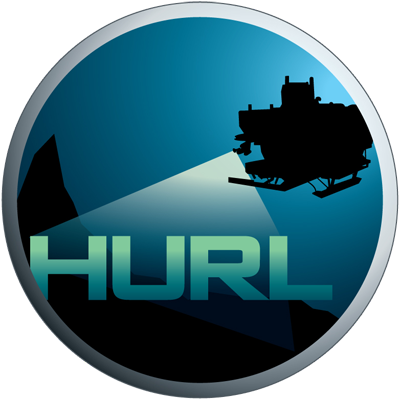 Hawaii Undersea Research Laboratory Archive
IN THE SCHOOL OF OCEAN AND EARTH SCIENCE AND TECHNOLOGY AT THE UNIVERSITY OF HAWAI'I AT MANOA
AIR-23: SB2C-5 Helldiver Tail (BuNo 83222)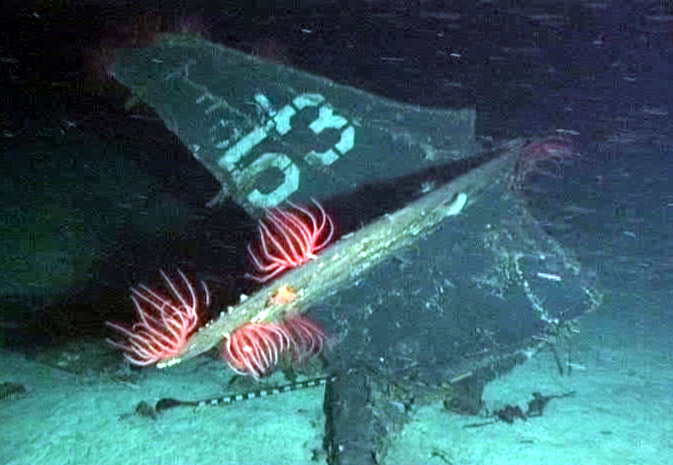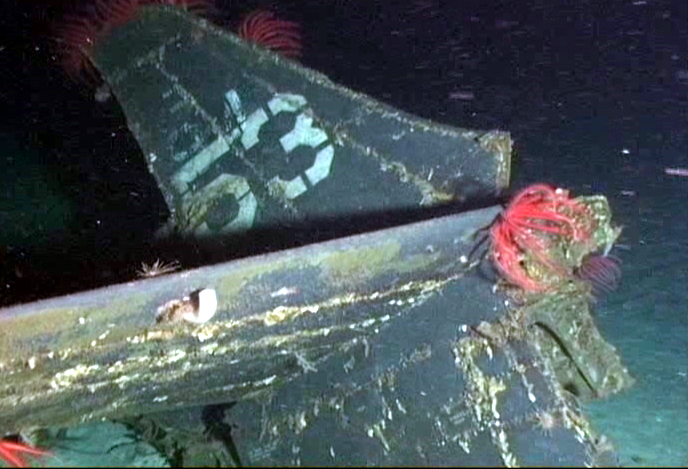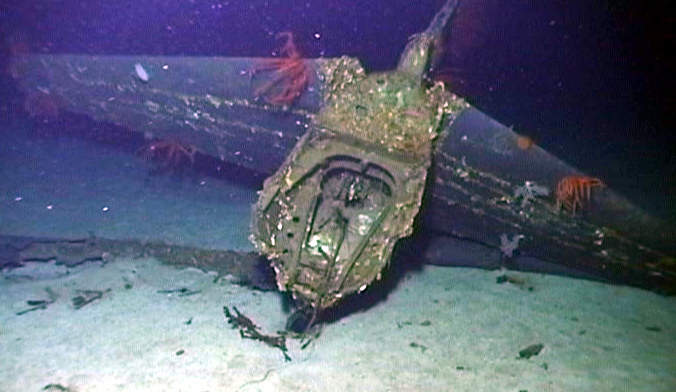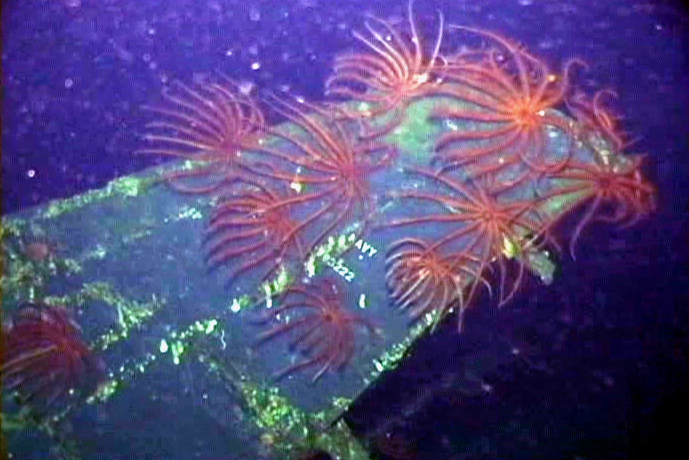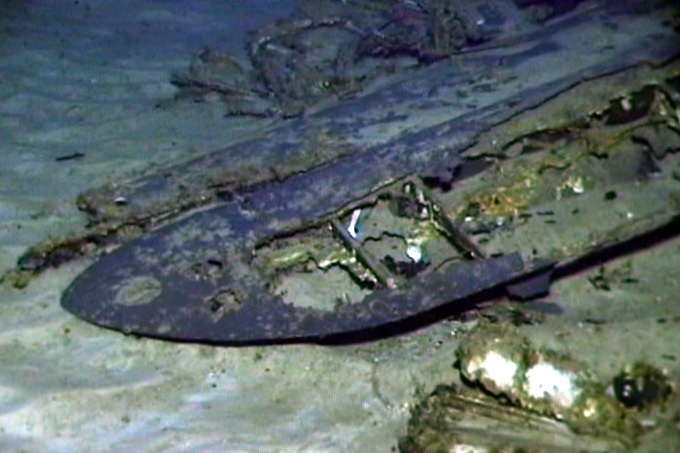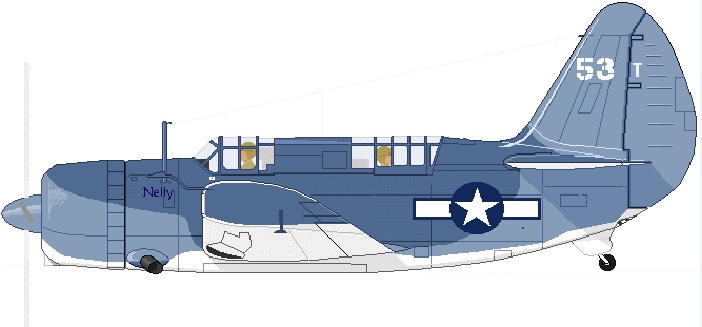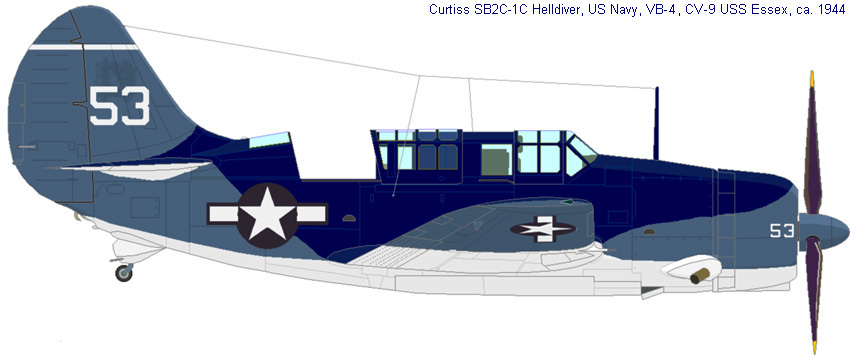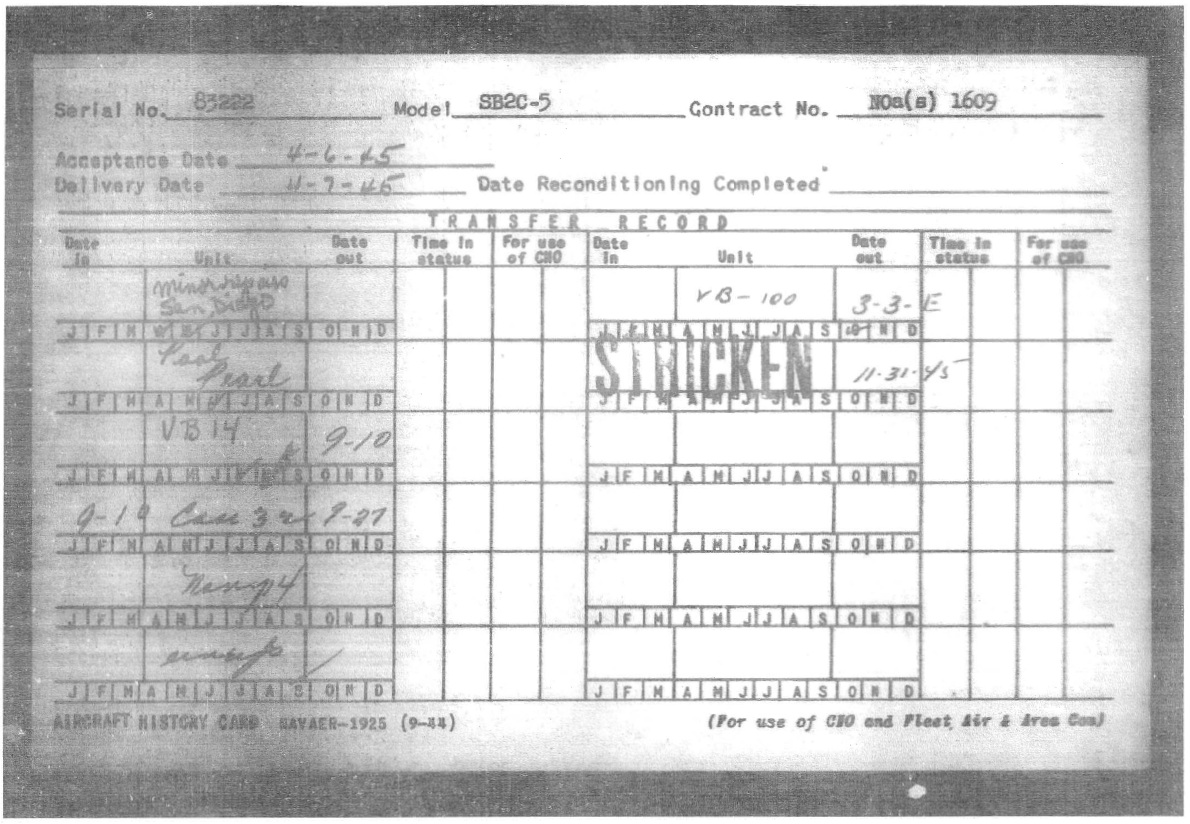 HURL Artifact No.
AIR-23
*Denotes approximations and speculations
Name:
SB2C-5 Helldiver Tail (BuNo 83222)
Lost:
Between Oct 25 and Nov 31, 1945
Artifact Type:
Combat Aircraft (tail section)
Found:
25-Sep-07
Nationality:
USA
Dive No:
PV-680
Class or Make:
Curtiss
Location:
South Oahu
Model:
SB2C-5
Depth (m):
505m
Purpose:
Dive Bomber
HURL crew:
Kerby, Price, Kelley
Serial Number:
83222
Additional Dives:
Built/Launched:
April 7,1945 (970)
Length:
14' (36' 9")
Width:
18' (49' 4")
Height:
12' (14' 9")
Circumstance of Loss:
Collision with another aircraft
Crew Personnel/Position:
(2) Pilot and Radio Operator/Gunner
Reason of Loss:
*Training
Crew Survivals/Fatalities:
Unknown
Artifact History:
Aircraft 82333 received minor repairs in San Diego in Apr & May 1945. In June was assigned to the pool at Pearl Harbor. Joined VB-14 in July and August and through until September 10. Next was with CASU-32 until September 27. Finally ended up with VB-100 out of Barber's Pt. until stricken on 31 November 1945 with a loss code 3-3-E "Accidental action of own force".
Artifact Condition:
Tail section of Helldiver is nearly complete. A large "53" is clearly painted on the side. In small print "Navy" and "83222" is also clearly visible. 60m toward shore is another pile of wreckage which also looks like tail components. 60m offshore is a Helldiver cockpit and wings, but without engine (AIR-24). It appears that these two portions are part of the same aircraft. However, there also appears to be tail or wing portions of a second plane mixed in among the wreckage.
Additional Information:
The Helldiver cockpit nearby (AIR-24) appears to have a letter "K" followed by another unidentifiable letter and what appear to be the number "84". This might indicate that it is a different aircraft entirely.