Making ʻaha to tag, identify corals could help reduce plastic in ocean
Making 'aha (using coconut husk fibers to create a cord) to tag and identify corals is the focus of a University of Hawaiʻi at Mānoa undergraduate student's project to incorporate Indigenous knowledge into marine science and help keep plastic out of the ocean.
Jasmine Chang, a third-year student studying marine biology and ʻōlelo Hawaiʻi at the Hawaiʻi Institute of Marine Biology (HIMB) in the School of Ocean and Earth Science and Technology, also works as a lab technician in the Coral Resilience Lab. She is a recipient of the Carol Ann and Myron K. Hayashida HIMB Student Support Endowment as well as the Schmidt Ocean Institute Undergraduate Research Fund.
"I think that we should always be looking for sustainable alternatives," said Chang. "And I feel like the reason that we do any studying out here, especially in the Coral Resilience Lab, is to further help and prevent the degradation of coral reefs. If anyone can find ways around supporting the mass production of things like single-use plastic that are horribly affecting our climate, then we should definitely take it."
Testing durability leads to interesting findings
Chang hopes that the practice of making ʻaha could eventually replace using zip ties to tag corals. Using ʻaha provides a natural fiber that can biodegrade in the ocean and not cause any damage to ecosystems. Chang began by conducting durability tests in the ocean in June 2022.
"We saw that it lasted over the course of three months and it was still there," said Chang. "So that was a huge success. In addition to that, we found that there was native limu (seaweed) growing on all my cordage as well. So it shows that it can recruit native species, which I had no idea was gonna happen."
Chang's next steps for the cordage are to test out its strength using a tensile test to see if it loses its durability over time in the ocean.
Inspired by her mom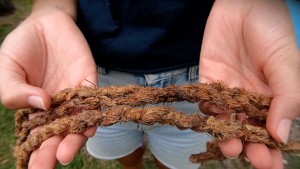 The project was inspired by her mom, Page Chang, who is a Native Hawaiian practitioner. Page has experience with coconut fibers and made ʻaha with another group to test out the durability on coral reefs. This inspired Jasmine to give it a try at HIMB.
Creating the cordage is a long and labor intensive process. In a trial run, Jasmine and her mom were able to make 20–30 feet of cordage using three coconuts.
The process starts with husking the coconut to get all the fibers out. Then Jasmine and Page tried two styles of preparation. The first used dry cord to weave, and the second style included washing off any excess debris on the husk and then weaving it together by rolling and twisting it. They gathered information using Page's knowledge of making cordage and from ʻaha resource books. Jasmine and Page acknowledge that they are not experts, and have lots to learn about the process.
"It's very personal, I would say it involves my family as well," said Jasmine. "I think it has definitely given me an opportunity to express my Hawaiʻi knowledge as a Native Hawaiian. I hope to build that bridge and make it stronger so that Hawaiian knowledge can be valued and sometimes used instead of Western science because it is just as valuable, which is what I hope to prove with this."
To support students like Jasmine and the great work being done in the Coral Resilience Lab, consider making a gift to UH Foundation.
Read also on UH News.