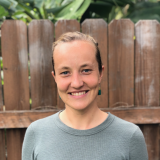 University of Hawai`i at Manoa
Department of Oceanography
CMORE Hale
1950 East-West Rd
Honolulu, HI 96822
Phone: (808) 354-1652
Fax: (808) 956-8668
E-mail: luciek@hawaii.edu


Education:
M.S. 2019 – Oceanography, UHM
B.Sc. 2015 – Integrated Environmental Studies, Jacobs University Bremen
Research Interest:
Marine carbon cycling and carbonate chemistry
Anthropogenic CO2 and ocean acidification.
Trace metal isotope geochemistry.
Current Research Activities:
Carbon cycling and CO2-carbonate chemistry at Station ALOHA.
Publication:
Terlouw, G. J., Knor, L. A., De Carlo, E. H., Drupp, P. S., Mackenzie, F. T., Li, Y. H., Sutton, A., Plueddemann, A., & Sabine, C. L. (2019). Hawaii coastal seawater CO2 network: A statistical evaluation of a decade of observations on tropical coral reefs. Frontiers in Marine Science, 6, 226.