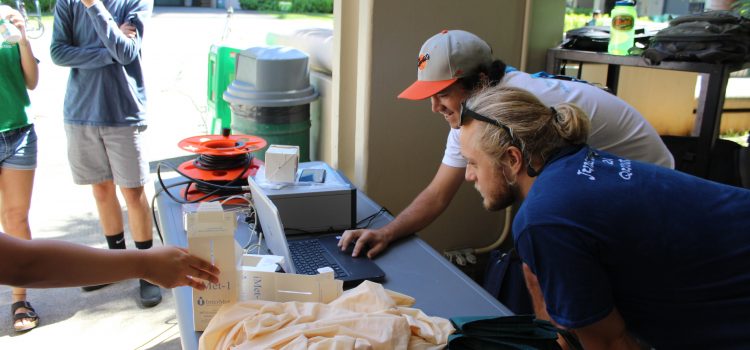 Bachelor of Science (BS)
Students graduating with a BS degree in atmospheric science from UH Manoa will:
demonstrate integrated understanding of the fundamental physical and dynamical processes governing the atmosphere across spatial and temporal scales;
demonstrate a comprehensive understanding of the interconnected Earth system (solid earth, atmosphere, ocean, cryosphere, and biosphere);
utilize state-of-the-art diagnostic, prognostic, and technological frameworks including models, instrumentation, and remote sensing data to analyze and interpret atmospheric processes;
develop and apply critical and analytical thinking to solve problems in the atmospheric sciences in both individual and collaborative settings;
effectively communicate scientific information to the general public and the scientific community in both oral and written form;
adopt the principles of proper ethical behavior and understand the broader impacts of the atmospheric sciences on society;
synthesize and apply knowledge within the atmospheric sciences or across disciplines through a capstone experience or in depth course projects or portfolio;
demonstrate expertise in tropical weather and climate and communicate effectively the importance of tropical atmospheric processes to global weather and climate phenomena;
embrace a scientific leadership role and become ambassadors for weather and climate issues impacting the communities and peoples of the greater Pacific region.
Master of Science (MS)
Students completing the MS in atmospheric science are expected to:
Demonstrate empirical knowledge of atmospheric phenomena.
Understand the current state of basic theory used to model such phenomena.
Be able to conduct novel research in significant problems in the atmospheric sciences with modest support from more advanced scientists.
Communicate both orally and in writing with at a high level of proficiency.
Possess professional skills to solve real world problems in the field.
Doctor of Philosophy (PhD)
In addition to the outcomes listed for the MS, students completing the PhD are expected to be able to conduct independent, original research on significant problems in the atmospheric sciences.
Undergraduate Advisor
Graduate Chair