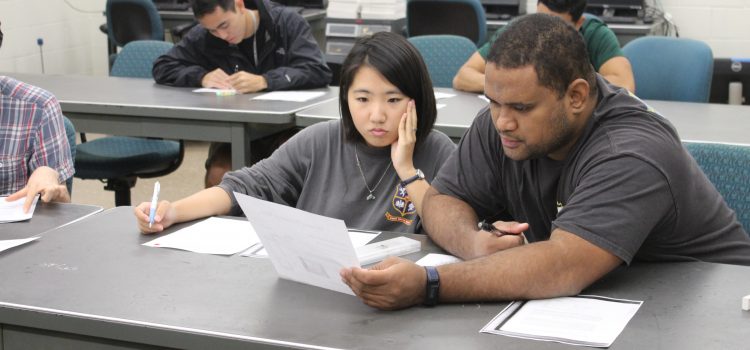 Your academic qualifications will be evaluated by our faculty and appropriate recommendations will be made to the Graduate Division. Please submit two packets of information, one to the Graduate Division and another directly to the Atmospheric Sciences Department.
This packet should include: 
Application form;
One official copy of transcripts directly from the registrar of each institution attended;
If you have taken the GRE, submit official GRE (GEN) scores, but note that the GRE is not required. 
Official TOEFL score report (Foreign applicants); and
Application fee.
You may contact the Graduate Division via telephone at 808-956-8544 or via email at admissions@grad.hawaii.edu, or visit their website at manoa.hawaii.edu/graduate/.
Please also submit a second packet to the Department of Atmospheric Sciences via email (
metdept@hawaii.edu
) containin
g the following:
Interest statement;
Three letters of recommendation from former professors or employers;
Curriculum vitae (one page);

Statement of interest in Graduate Teaching Assistant Position (if applicable). 
In order to provide you with the most appropriate academic guidance for your individual needs, we request a brief statement describing your interest in atmospheric sciences. Your one-to-two page interest statement should explain why you have chosen to continue your education in atmospheric sciences. It should also briefly state your work experience and career plans, as well as any specialization preferences you wish to express. If interested in being considered for the Graduate Teaching Assistant Position which offers financial support and a tuition waiver (see here for more information), then please provide a one-page TA interest statement, which should include any prior teaching or related experience (e.g. tutoring, mentoring, coaching etc) and motivation for the position.
You may contact the Atmospheric Sciences Department via telephone at (808) 956-8775 or via email at metdept@hawaii.edu. You may also contact our graduate chair, Tim Li at (808) 956-9427 or timli@hawaii.edu. If you are interested in a Graduate Research Assistantship, please contact the faculty member(s) you wish to work with directly and/or check for available funded graduate opportunities here . A list of faculty and their research interests can be found here.
You will be notified as soon as action is taken on your application by the Graduate Division.
Application deadlines:
| Semester | U.S. Applicants | International Applicants |
| --- | --- | --- |
| Fall | March 1 | January 15 |
| Spring | October 1 | August 1 |