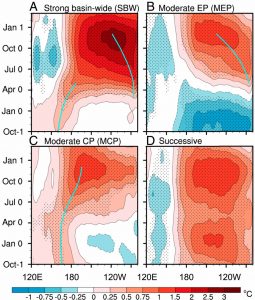 Prof. Bin Wang and colleages have just published a paper in PNAS, entitled "historical change of El Nino properties sheds light on future change of extreme El Nino". You can get a copy at: https://www.pnas.org/content/early/2019/10/15/1911130116
The attached is a figure shows how the El Nino types change over the past 120 years. I thought it would be good if you can use it in our website.
The media' stories are now on the website and you can read them here:
Washington Post
https://www.washingtonpost.com/weather/2019/10/22/super-el-nio-events-may-become-more-frequent-climate-warms/
AAAS EurekAlert!
https://www.eurekalert.org/emb_releases/2019-10/uoha-cwp101819.php
AP News
UH News
http://manoa.hawaii.edu/news/article.php?aId=10250,