Research Focus
My students and I use computer simulations of solid and fluid mechanics to study mantle convection and melt generation beneath mid-ocean ridges as well as hotspot island chains like Hawai'i. More recent studies include computational geophysical studies of lithosphere deformation and faulting at both divergent and convergent plate boundaries. Students who work with me have strengths in math and physics and are interested in computer modeling.
Analyze high-resolution maps of seafloor topography to measure faults and magmatism where seafloor is spreading and being created at mid-ocean ridges.
Use computer models to study the mechanics of the growth and faulting of mountain belts and submarine accretionary wedges where tectonic plates collide (see movie on YouTube).
Perform computer simulations of solid mechanics to examine the buckling and fracturing of the Pacific tectonic plate as it is loaded by the weight of the Hawaiian islands.
Research Focus
The research theme of our group is to understand the physics and chemistry of Earth and planetary interiors through direct examination of material properties under high pressure-temperature conditions using a wide spectrum of techniques available in synchrotron and neutron facilities and in-house laboratories. Our research takes a two-pronged approach: sample syntheses and high pressure-temperature measurements on large volume samples using the multi-anvil apparatus; measurements of the elastic and acoustic properties of planetary materials under high pressure and temperature conditions using the diamond anvil cell combined with laser, X-ray, and microanalytical techniques.
Possible projects
Thermal-elastic properties of high-pressure ices and implications to the internal structure and dynamics of the icy moons in the Solar System. The project will involve the synthesis of single crystal ice VII at high pressure-temperature conditions in an externally heated diamond anvil cell. The synthesized single crystal ices will be probed by X-ray diffraction and Brillouin Scattering techniques for their elastic and vibrational properties under conditions found in the interiors of the icy moons.
Thermodynamics database for the high-pressure properties of candidate materials for Earth's core as well as the cores of other planets or moons. The database will be built upon a Python mineral physics toolbox, Burnman, which will be used for thermodynamics modeling for Earth and planetary cores.
Synthesis of large nano-crystalline diamond from graphite using the multi-anvil press in the mineral physics laboratory. The synthesized diamonds will be probed by X-ray diffraction and Raman spectroscopy for their physical properties. The synthesized diamond will have potential academic and industrial applications.
Research Focus
Our group focuses on using geodetic techniques, which give us extremely precise measurement of positions and movement of the earths surface, to improve the detection, understanding, and mitigation of natural hazards. We work on land, studying volcanoes and earthquake processes, and on the ocean, looking at tsunamis and sea-floor motion.
Potential Projects
Deformation and fault slip within the Koae Fault Zone at Kīlauea Volcano.
Modeling motion of the Highway 50 landslide using ultra-low-cost smart-phone-based GPS measurements. .
High-resolution mapping and modeling of geoid anomalies from precise positioning of cargo ships.
Generating and interpreting a new sea-surface-height and sea-state data product on the UH Research Vessel Kilo Moana.
Research Interests
Sensors & Instrumentation for Coastal Oceanography
Description
Recent technological innovations in consumer electronics have drastically reduced the cost of sensors that can be used for environmental monitoring, however, most of these advances have not yet been applied to aquatic sciences, and aquatic scientists have been forced to rely on expensive instruments developed for use by scientists with access to large research and development budgets. This has limited our understanding of dynamic, geographically complex ecosystems like the coastal zone. We have projects by the National Science Foundation, University of Hawai'i, and the Schmidt Family Foundation to: (a) establish a pool of low-cost sensors and instrumentation based on small single-board computers (Raspberry Pi, Arduino), (b) provide biogeochemical expertise for student-led development of field-deployable sensor systems in nearshore and coral reef environments, (c) establish a coordinated monitoring program in nearshore Hawai'i. For more information, visit grogdata.soest.hawaii.edu/project_info/.
Research Focus
Julia Hammer's research involves the part of the rock cycle in which magmas are formed and transported from the Earth's mantle to surface. Natural and synthetic samples are studied in the Experimental Petrology Laboratory to understand how magmas evolve through time and space in crustal reservoirs, and how these magmas change during ascent to control the styles of volcanic eruptions.
Potential Projects
Perform decompression experiments to understand the 1846-47 eruption of Volcán Quizapu, Chile.
Determine the storage depth of magma prior to a large volume ignimbrite eruption in Chile's Central Volcanic Zone.
Research Focus
My research interests are in mantle geochemistry, and magmatic processes that shape oceanic volcanoes. The majority of my work focuses on the use of radiogenic (Pb, Sr, Nd, Hf) and stable (Fe) isotopes, as well as major and trace element abundances to look at the sources and processes that form volcanic rocks. In particular, I work on volcanic chains that occur in the middle of the tectonic plates (so-called hotspots), studying how the volcanoes are constructed, how they relate to the tectonic plates, and how they relate to the world-famous example of the Hawaiian Islands.
Potential Projects
Compositional gradients across Hawaiian rocks or minerals using laser induced breakdown spectroscopy (LIBS).
Evolution of isotopic composition in hotspots over time.
Research Focus
Students who have worked with Steve have explored a broad range of physical processes in geology, especially in structural geology and engineering geology. Much of the research addresses fracture phenomena (e.g., fault development, joint formation, and dike propagation). The effects of topography on stresses near the surface of the Earth and on rock fracture have been a particular recent focus.
Potential Projects
Testing whether the interaction of volcanic centers can account for the pattern of rift zones in Hawai'i.
Testing the effect of volcano shape and size on its subterranean plumbing.
Exploration of how growth of one volcanic rift zone affects others.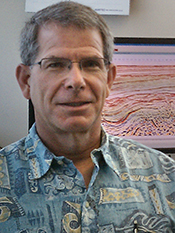 Research Focus
My students and I recently collected new data sets (seismic reflection, OBS refraction, and multi-beam bathymetry) over the oceanic crust NE of O'ahu (to study the character of the Moho and upper oceanic crust) and in the Nankai Trough subduction zone south of Japan (to study submarine landslides and initial deformation of sediment at the toe of the subduction zone. I will be joining IODP Expedition 372 in the Hikurangi subduction zone of NE New Zealand to study deformation processes in this subduction zone.
Potential Projects
Process and interpret 2D seismic reflection lines over oceanic crust and study variations in the oceanic Moho and upper oceanic crustal structure NE of Hawai'i.
Process and interpret 2D seismic reflection lines over the toe of the Nankai Trough subduction zone to understand the processes within the protothrust zone. We will compare this area to a similar zone off NE New Zealand.
Analyze high-resolution maps of seafloor topography to measure landslides in the Nankai forearc.
Research Interests (Shea)
As a volcanologist-petrologist, I work on uncovering valuable information about the state of magmas underneath volcanoes, the tempo of magma input and rates of ascent in the Earth's crust, and the way erupted products are transported at the surface. Lately, I've been exploiting the crystal "cargo" of volcanic rocks from Hawai'i and other regions of the world to understand how often magmas get stored and recharged by other magmas prior to erupting.
Potential Projects (co-supervision with Mike Garcia)
What is the magmatic history of Koko rift lavas? Olivine is abundant in the rocks from this rift and can be used to infer timescales for magma storage in the crust. These rocks are thought to have arisen from the mantle quickly but preliminary evidence suggests they were stored for months. The student will collect samples from several vents and analyze them using the SOEST microprobe to determine the compositional zoning.
What is the thermal structure of the lithosphere under Honolulu? Use mantle xenoliths from recent eruptions in Honolulu to infer their pressures and temperatures prior to being picked up by erupting magma.
Petrology of Kīlauea tephra: Implications for its explosive eruptions. Determine glass and mineral compositions by microprobe to infer magmatic history of some explosions at Kīlauea.
Research Focus
Generally unseen and infrequently measured, submarine groundwater discharge (SGD) can transport large loads of nutrients and other land-based contaminants to the coastal waters of Hawai'i. We investigate the connections between differing types of land use, the flow of water, and finally the nutrient fluxes from land into the coastal ocean. As elevated nutrient flow to coastal settings can drive algal blooms that can degrade our coral reefs, we combine natural stable isotopes and nutrient geochemistry of both SGD and of marine plants to trace the origins of elevated nutrients, as well as assess the biological impacts on the marine plant community. A major goal of our combined research is to better understand how the biological community of reef species responds to nutrient additions, and to understand how the needs of that community lead to health and sustainability of our coastal ecosystems.
Potential Project
Using deployed and wild collected algae to measure the impacts of SGD-linked nutrient enrichment by following changes in tissue and water nutrients as well as changes in isotopic values also in water and plant tissues. These changes can give us insight in the locations and magnitude of nutrient enrichment that enters the coastal waters of Hawai'i, and reveals underlying sources and mechanisms for changes in benthic diversity.