INSTRUMENTS
FEI Helios NanoLab 660 Extreme High Resolution Dual Beam FIB
Click on all images to open a larger version in a new window.
Overview
The FIB, or focused ion beam, is a dual beam instrument. It combines an electron column and an ion column, mounted at an angle to each other so that both focus on the sample at the same location. This permits highly site-specific analysis, deposition and ion ablation of materials. The electron beam is focused and scanned over the region of interest and typically acts as the "eyes" that allow the operator to image and direct the focused ion beam in "cutting" and "pasting" processes.
"Pasting" is carried out by using either the electron beam or the ion beam to break down gases delivered locally by a small injection needle near the sample surface to leave behind platinum (Pt) or tungsten (W) or carbon (C), depending on the type of gas used. In addition to "pasting", localized deposition can be used in "growing" nanostructures.
"Cutting" is performed using operator-defined patterns followed by the focused beam of Ga+ ions.
An in situ micromanipulator needle can also be inserted to move microscopic objects around. These capabilities translate into an extremely powerful and flexible tool that can be used for nano-engineering and nano-surgery on samples that are sufficiently conductive.
With its heritage in the semiconductor industry, a common application for the FIB is the preparation of electron-transparent samples for the (scanning) transmission electron microscope (S)TEM, referred to as FIB sections. FIB is particularly useful because sections can be removed from precise sites of interest, often discovered by other prior analyses. A protective strap is first deposited over the region of interest. We commonly use Pt for the protective strap, but C or W can also be used. On either side of the protective strap, trenches are milled. Then, the sample is stilled to allow the ion beam to cut the section, still a micron or so thick, nearly free from the bulk sample. The in situ micromanipulator needle is guided over to one corner of the section and "welded" in place by ion-assisted deposition (usually of Pt), and the remaining connection between the section and the bulk sample is milled away to free the section. It is carefully lifted away from the bulk and then moved over to a specially designed FIB grid where it is "welded" to a finger on the grid. The ion beam is used to thin the section down to electron transparency (~100 nm, typically). The FIB section is then ready for examination in the Titan (S)TEM.
A FIB section is mounted on the "B" finger of this FIB grid.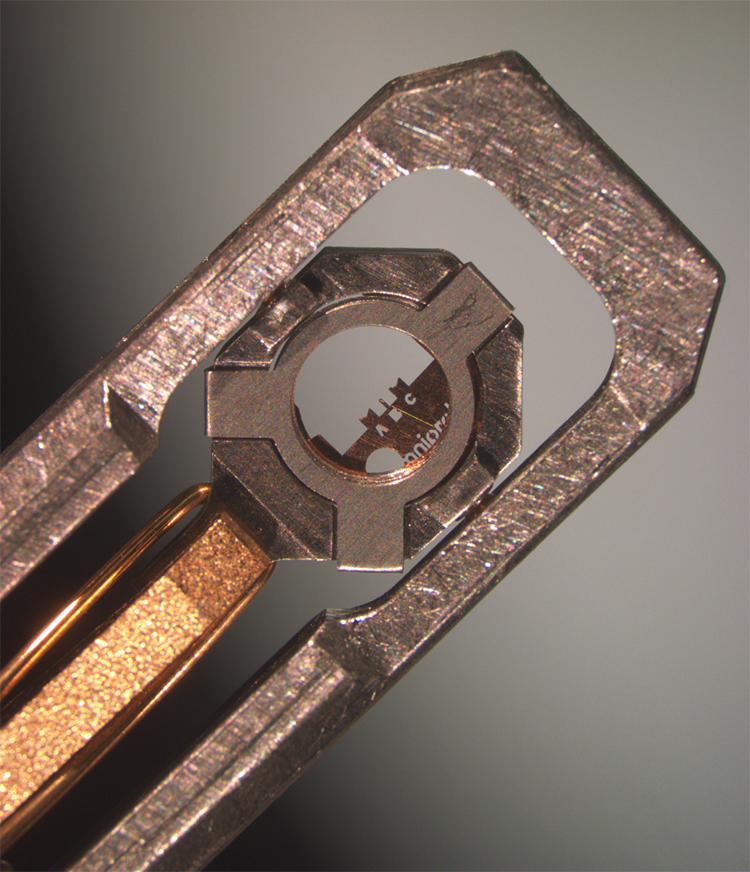 FIB grid loaded into the double-tilt holder for Titan (S)TEM analysis.
In general, samples need to be conductive for FIB preparation. Please discuss appropriate sample preparation with staff.
Capabilities and characteristics of the UH Helios 660 dual beam FIB:
Elstar field emission electron gun with Schottky thermal field emitter
Monochromated (unicolor or UC) column and variable landing energy (20 V – 30 kV)
Electron beam resolution of 0.6 nm at 2-15 kV and 1.0 nm at 500 V at optimum working distance
Electron beam resolution of 0.6 nm at 15 kV, 0.9 nm at 5 kV and 1.2 nm at 1 kV at coincident point.
STEM resolution 0.6 nm at 30 keV
Tomahawk Ga+ ion gun with 65 nA max usable beam current (15 apertures)
Ion beam resolution of 4.0 nm at 30 kV at coincident point
Variable incident ion beam acceleration (500 V–30 kV) allows low-kV surface cleaning
Electron and Ion Detectors:

In-lens detector (SE and BSE)
In-column SE detector (ICD)
In-column BSE detector (mirror detector)
Everhart-Thornley SE detector
Ion conversion and electron (ICE) detector (secondary ions and SE)
Retractable high contrast solid-state back-scatter with selectable quadrants and rings
Retractable STEM detector with BF/DF/HAADF sedgments

X-ray detector: Oxford Instruments AZtec Energy Advanced Microanalysis System with X-maxN 80 large area silicon drift detector (80 mm2 active area) enables collection of x-ray point spectra as well as x-ray spectral mapping and line scans.
IR camera for chamber viewing and in-chamber Nav-Cam for sample navigation
MAPS software for automated acquisition of tiled images over large area
AutoSlice and View for sequential milling and image collection for 3D reconstruction
High precision 5-axes motorized stage, piezo-driven in X, Y and rotation, and with optional compucentric rotation and til
Easy Lift micromanipulator for TEM sample preparation and in situ sample manipulation
Built-in plasma cleaner for reduced contamination
N3 gas chemistries are available:

Platinum deposition
Tungsten deposition
Carbon deposition
[ Top of this page ]